Rotor Division
STAT MedEvac, a service of the Center for Emergency Medicine of Western Pennsylvania, Inc., has 17 helicopters to serve you!
Regional basing links rural and community health resources with advanced tertiary care centers. The superior response times of STAT MedEvac provides immediate access to advanced care that can actually improve patient outcomes.
Learn about STAT MedEvac's fleet of advanced aircraft.  All are equipped with the latest in lifesaving and advanced aviation technologies.

EC 135 Specifications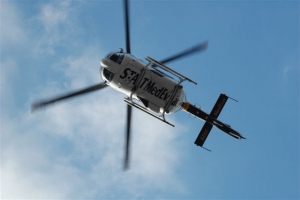 The light twin, multi-mission helicopter Eurocopter EC 135 showcases tomorrow's technology for today's cost-conscious missions while keeping operating costs to an absolute minimum.The EC 135 gives you a choice of twin engine models-each featuring a Full Authority Digital Electronic Control (FADEC) system for the state-of-the-art power management. From startup to shutdown, the FADEC system provides optimized performance, safety and fuel efficiency.
SPEED/RANGE
» Speed 139 kts,160 mph, 258 kph
» Range (Sea Level) 353 nm, 654 km
WEIGHTS
» Empty Weight (standard aircraft) 3,285 lbs, 1,490 kg
» Max Take-off Weight 6,250 lbs, 2,835 kg
» Max Take-off with External Load 6,400 lbs, 2,900 kg
ENGINE RATINGS
» Engines (2) Pratt & Whitney turbine engines or (2) Turbomeca turbine engines
» Take-off Per Engine (Pratt & Whitney) 621 shp, 463 kw (Turbomeca Arrius 2B2) 606 shp, 452 kW
» Maximum Continuous Power (Pratt & Whitney) 562 shp, 419 kw (Turbomeca Arrius 2B2) 571 shp, 426 kW
FUEL CAPACITY
» 989.0 lbs, 560.8 liters
» Auxiliary tank 193.6 lbs, 109.8 liters
EC 145 Specifications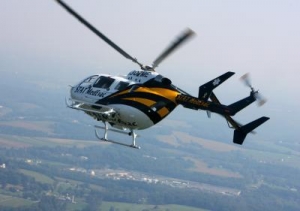 The EC 145 is a twin-engine, multi-purpose helicopter powered by two Turbomeca Arriel 1 E2 engines. Thanks to its spacious cabin and flat floor, the EC 145 can be configured for a multitude of missions such as passenger transport (up to 9 passengers) VIP transport, SAR and EMS missions, and law enforcement service operations. Easy access to cockpit and cabin via the large side doors as well as easy straight-in loading of patients or equipment through the large rear clamshell doors are typical design features of the EC 145.
SPEED/RANGE
» Maximum Speed (VNE) 145 kts, 268 km/h
» Maximum Cruising Speed (VH) 133 kts, 246 km/h
» Recommended Cruising Speed 131 kts, 243 km/h
» Range (max. fuel capacity at recommended cruise speed-no reserve)
» Standard Fuel Tank (694 kg) 370 nm, 680 km
» Long Range Fuel Tank (869 kg) 461 nm, 855 km
WEIGHTS
» Empty Weight (standard aircraft) 3,951 lbs, 1,792 kg
» Max Take-off Weight 7,903 lbs, 3,585 kg
ENGINE RATINGS
» Engines (2) Turbomeca turbine engines-Arriel 1E2
» Take-off Power 738 shp, 550 kW
» Maximum Continuous Power 692 shp, 516 kW
FUEL CAPACITY
» Main Tank 1307.8 lbs, 741.5 liters
» Left Supply Tank 104.1 lbs, 59 liters
» Right Supply Tank 118.2 lbs, 67 liters